Our award-winning facial sunscreen mist with no added fragrance (3 fl oz). Let them call you boring! We know the truth. You're an eternal wild child/overachiever with a soft spot for kittens, bad boys and cheesy love songs.  
Designed for use OVER MAKEUP but can also be used on bare skin. Eliminates the need for SPF powders and mineral makeup that look cakey and magnify lines.

Spray top may be white or gold.

Quantity limit of 2 per order for this item.

We stand behind our formula and offer a MONEY BACK GUARANTEE!
Additional Details
Achieve your #bestskinever with our 3-in-1 SPF superstar!
Non-Nano Zinc Oxide SPF 25 Sunscreen Facial Mist.
Physical broad spectrum sun defense (both UVA + UVB rays).
Provides THREE key functions:
Sets makeup giving a fresh, airbrushed look
Defends skin against sun damage via reapplication every 2 hours
Delivers hydration and nourishment to the skin, extending its youthful appearance 
Bottle sizes are TSA approved -- perfectly portable for purses and travel bags!
Suitable for all skin types, Reef Safe and NO whitecast.
Absolutely NO animal testing or animal byproducts (Cruelty Free and Vegan).
Non-aerosol FINE + SHEER spray mist application delivers delicate yet ample coverage.
Fast absorbing, lightweight, and refreshing!
No Yucky Chemicals.
Made in the U.S.A.
*Please note: product measurement is 3 fl oz in a 4 oz and 1.6 fl oz in a 2 oz hermetically sealed cylinder bottle - this is intentional so that there is space in the bottle to shake the product well before using. Bottles are made of a safe and 100% recyclable packaging material.


Ingredient Spotlight
Non-Nano Zinc Oxide:
The most safe + effective sunscreen active available in the US. Zinc Oxide creates a barrier on the skin that reflects both UVA and UVB rays.
Blueberry Extract:
Contains a powerful combination of antioxidants and Vitamins A + C + E that combat free radical damage, reduce inflammation and promote a brighter, even complexion.
Shiri Fruit:
Excellent source of Vitamins C + E + P and other bio-active compounds that reverse the signs of skin aging caused by cumulative UV light exposure.
Active Ingredients: Non-Nano Zinc Oxide 5%
Ingredients: Aqua (water), Glycerin*, Shea butter ethyl esters, Olive oil glycereth-8 esters, Oryza sativa (rice) extract & aloe barbadensis (aloe vera) leaf extract*, Cellulose, Aphanizomenon flos aquae (blue green algae) extract, Cucurbita pepo (pumpkin) seed extract, Punica granatum (pomegranate) extract, Vaccinium angustifolium (blueberry) fruit extract, Malpighia glabra (acerola) fruit extract, Aspalathus linearis (rooibos) leaf extract, Rosa roxburghii fruit extract, Xylitol caprylate/caprate*, Glucono delta-lactone, and Tocopherol (vitamin e). *Organic
How to Use for Best Results
Apply liberally 15 minutes before sun exposure.
Shake
Shake bottle vigorously. All of the ingredients need to be nicely blended for application to work properly.
Spray
Hold bottle 9 inches from your face to ensure a sheer application. Pump spray top 5-6 times for full coverage. Make sure that face and neck are well covered.
Reapply
Reapply every 2 hours throughout the day to help protect skin from UVA + UVB damage.
Uses: This special formula is very versatile. Mist over makeup as a setting spray, before makeup application OR with no makeup on bare skin.

Technique: To activate formula, tap the bottle briskly on the plam of your hand or a hard surface about 6 or 7 times.

Disclaimers: Spraying too close to skin may result in visible droplets. Do not over saturate. Over application may diminish makeup integrity and can lead to shine. Do not use this sunscreen mist for swimming or other water sports. It has not been tested for water resistancy.
Reviews
Customer Reviews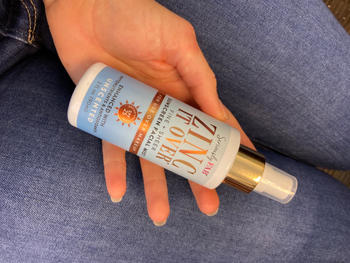 03/14/2022
Best hydrating sunscreen!
Best hydrating sunscreen! I live in Southern California so sunscreen is a must. I use this when I go out for lunch or after work on a walk after I've already applied makeup for the day. Hydrating as well. The best!
Sydney S.

United States
05/15/2022
Love it!
So far so good! Love that this works over make up/ other skin care. I ordered unscented since I am sensitive to some scents, the only draw back here is the raw ingredients have their own smell that I find a little unpleasant. That said it seems to dissapate after the spray dries. From what I can tell this doesn't leave a white cast and I love how easy it is to reapply!
Rachel H.

United States
05/13/2022
Review
Fabulous. I love the fine mist!
Rena S.

United States
03/15/2022
The best SPF spray ever!
I have been looking for a SPF spray that I can use throughout the day over my make up without ruining it. The problem is I am sensitive to chemical SPF and there aren't many good mineral sprays out there. Then I found Seriously Fab and I won't ever look back! This spray is incredible!!! It doesn't look like I sprayed anything on and my makeup is intact. This is amazing to carry around in my purse for SPF top ups during the day. Please don't discontinue!!
Hannah F.

United States
03/15/2022
A MUST HAVE!!
I love this sunscreen mist. I always go back to this product. Can't find another product quite like this. Good stuff!!
Jovana D.

United States